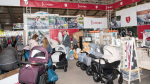 Within the FOR BABIES trade fair, the traditional GRAND PRIX and TOP EXPO awards were granted. While GRAND PRIX is a prize granted by an expert jury to the best exhibits presented at the show, which are outstanding within their competition and which introduce a new innovative concept, the TOP EXPO award is given to the best stands at FOR BABIES.
The main award goes to BABY CENTRUM s.r.o. with the Czech production baby- carriage Tudore Forester!
and the TOP EXPO award goes to KITIKATE with their unique and organic clothing for babies and children!
Congratulations!